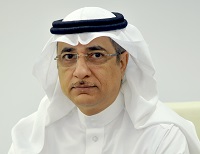 Zuhair F. Hamzah
At Intimaa we have always aimed at achieving leadership in order to reach the summit and this can only be accomplished through proper planning and implementation of solid strategies that take into account all of the diverse elements and various market variables in real estate services.
To accomplish this goal Intimaa has developed an ambitious plan that puts customer satisfaction at the top of its priorities by providing integrated real estate services, achieving the interests to shareholders, and forming a team of the best experts to ensure continuity and leadership in the market.
Intimaa was created as a company that aims specifically to adhere to the new requirements of the market by providing high-quality services that keep pace with global developments and reflect a deep understanding of customer needs. In addition, Intimaa strives to fulfill the aspirations of its partners and employees as part of a new entity that is characterized by higher flexibility and greater ability to make sound decisions and achieve operational excellence.